This video from around the 30's is really interesting. Somewhat corny, especially the "ooooh swish", but if you look past all of that, and ignore the ending about what men will wear, alot of it is quite accurate.



American Apparel Le Sac Dress reminded me of the versatile dress in the video that takes you from day to night.



This Jean Paul Gautier a/w 2009 dress is mostly made of "transparent net... the net, probably to catch the males".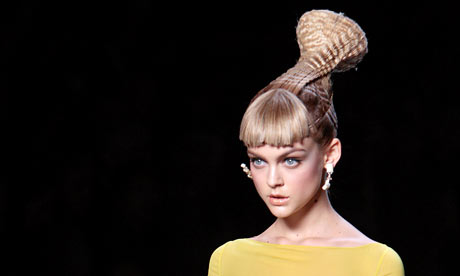 A "hair raising time" from Christian Dior ss09 show.



From this pre-fall 2010 look, Yves St Laurent reminds us that he got rid of the skirt entirely



Marc Jacobs ss08 "cantilever heels"